There's no stopifying Shopify.

Over a million users in 175 countries have set up their shops on the do-it-yourself e-commerce platform. In fact, since its inception in 2006, trillions of dollars of business have been processed by the app. In addition, Dropshipping has become a household term, as most members have started selling stuff online via 3.76 million live online stores using Shopify.
You're one of the many. You've built a world-class product and set up your Shopify store. Your SEO game is on point, and you have an organic follower base on social media. Does this guarantee higher ROI?
Certainly not.
To build your e-commerce empire, you need to understand your customers like no one else. Data is the new gold. Your business is golden only with enriching state-of-the-art data analytics.
As e-commerce stores grow, it needs customer-centered insights backed by factual data. However, most aggregators, including Shopify, provide fundamental tools which fall short of modern e-commerce needs.
Furthermore, to access many of Shopify's in-store tools, one has to pay a high premium that may not be affordable for small businesses.


Going Beyond Shopify Tools
For Shopify's success, one has to look beyond its in-store apps. A big reason is Shopify's inability to capture the customer. Another one is that every shop has its own KPIs, and Shopify tools are more one-size-fits-all types.
The solution? A change in focus to a better understanding of the customer journey. Read more: Everything you ever wanted to know about an eCommerce customer's journey.
One may find invaluable insights into the user's psyche and help solve their problems. However, no two customer journeys are alike. The need of the hour is an integrated solution that leverages these customer journeys.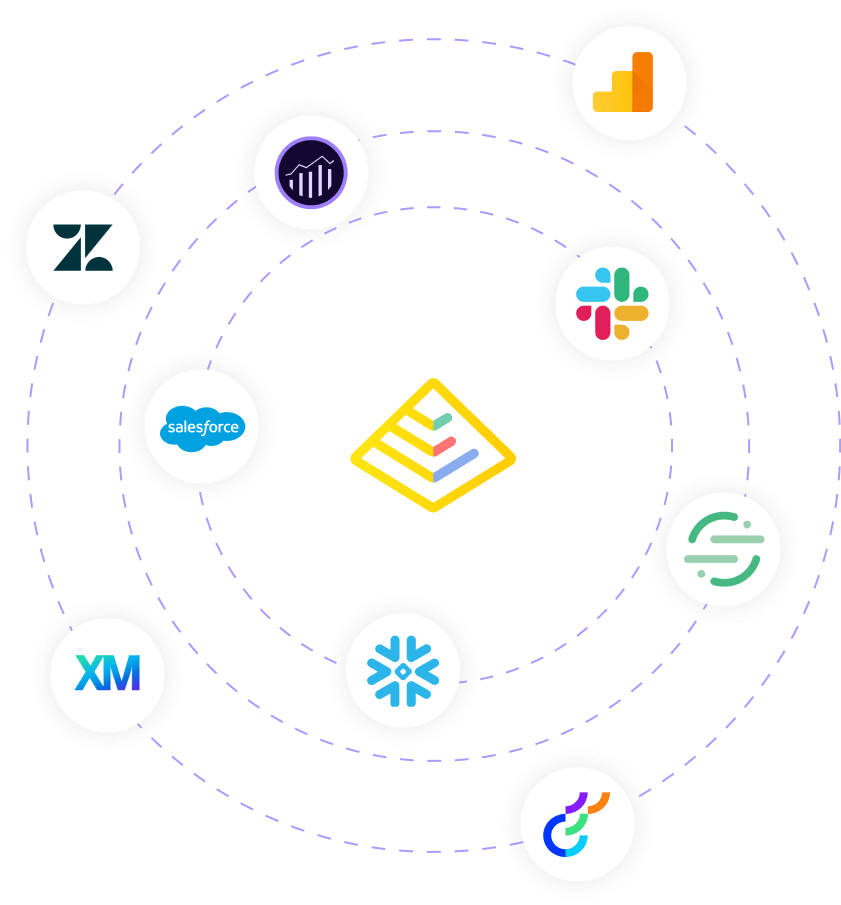 Auryc is an integrated solution that connects cross-platform seamlessly.
Have You Outgrown Shopify?
Shopify does a lot, but it isn't an all-purpose solution. In addition, companies that have grown their eCommerce businesses past a certain point need help with deeper insights. Then you need experts to take the next leap.
Here are three significant problems you may face with your Shopify stores and their solutions.
1. Scaling
: How will you grow your following thousand clients? Is your page handling the increased traffic well? Are you on track to meet your ROI goals?
These are some of the commonly asked questions to Shopify sellers. The most common answer is " I don't know."
At the heart of this is the age-old problem of traditional funnels. Unfortunately, these become obsolete very fast when it comes to e-commerce. A single metric analysis of attrition and volume doesn't make sense in an e-commerce setting.
2. Feedback
: To better your ROI, you have not just to satisfy the customer. You have to delight them. But how do we know their concerns and feedback properly?
Customer service is critical. One may think of outsourcing the whole process to a third-party vendor. However, that just makes it way more unreliable. Much vital information and nuanced subtleties could get lost in translation. Bots and AI can never replace humans. An individualized approach can only go so far in addressing customer complaints.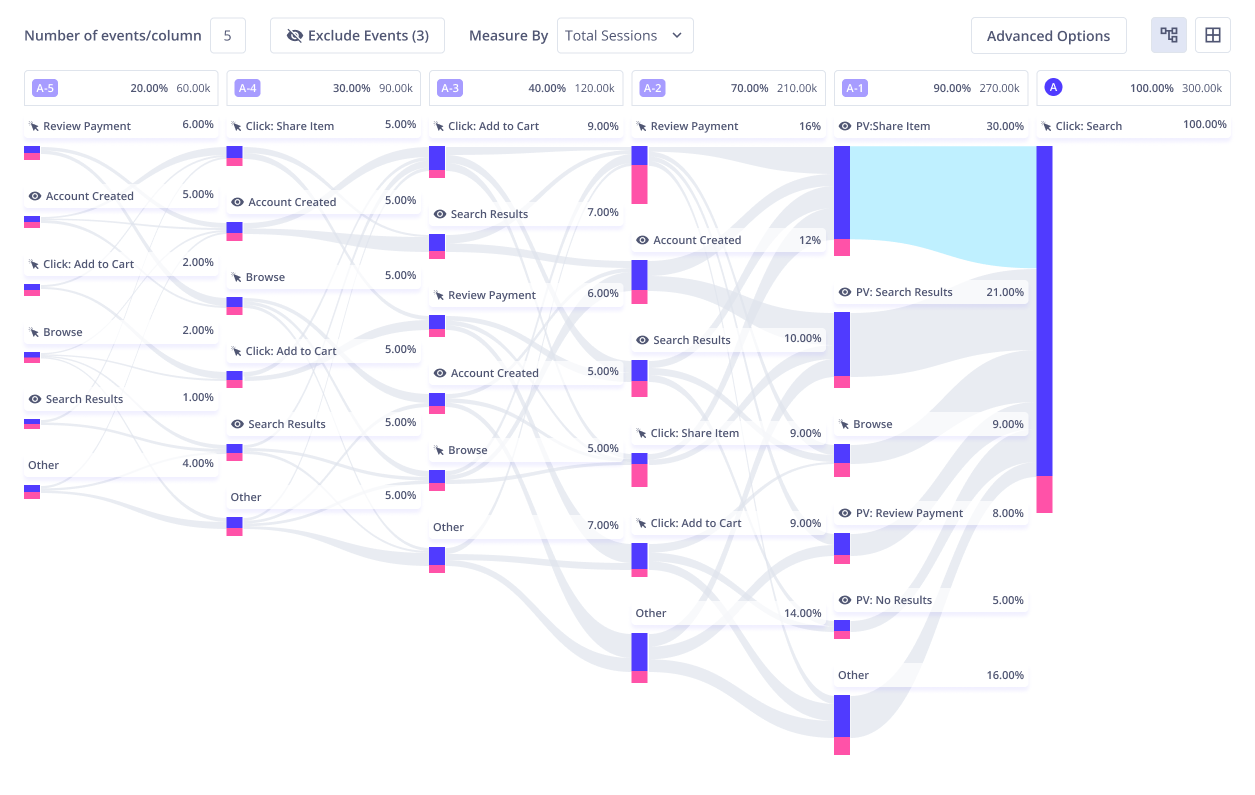 To succeed, you need a deep understanding of the customer.
3. Optimization
: Coming to page traffic, how do you optimize the page so that the traffic converts? Is there a part of the page that they like more than the others? Are they committing rage clicks?
Increasing page traffic is one thing, but converting it into meaningful interactions or purchases is different, and this is where the critical bit of the customer journey lies. More insights about your website can help you strategically target and fix the flaws that might negatively affect the user's experience.
Here are time-tested expert solutions for these problems

1. Smart
Funnels:
Where traditional funnels fail, Auryc's Smart Funnels shine, Auryc's proprietary technology helps you create personalized on-demand funnels to meet client needs.
Because Auryc captures and automatically categorizes every customer interaction, creating funnels on the fly is now a reality. You can perform funnel analysis on any page or event you can imagine. Then, simply go into the Auryc portal, create the funnel steps, and run the report.
With Auryc's smart funnels, you can:
1. Seamlessly track customers across multi-visit sessions.
2. Understand the reason for an abandoned cart.
3. Identify new funnels using Auryc's automatic pathing analysis capabilities.
2. Voice of Customer:
To understand any particular customer feedback, one has to understand the context. For example, Gartner's study predicts clients will manage 85% of their relationship with enterprises without interacting with a human- including journey experiences before, during, and after a purchase.
Auryc's Voice of Customer tools capture customers' expectations, preferences, promoter/detractor scores, and problems they encountered, adding qualitative research to the quantitative analytics data.
With Auryc's Voice of Customers, you can:
1. Assign context to every user experiences
2. Reveal the WHY behind each WHAT
3. Provide next steps for immediate grievance relief.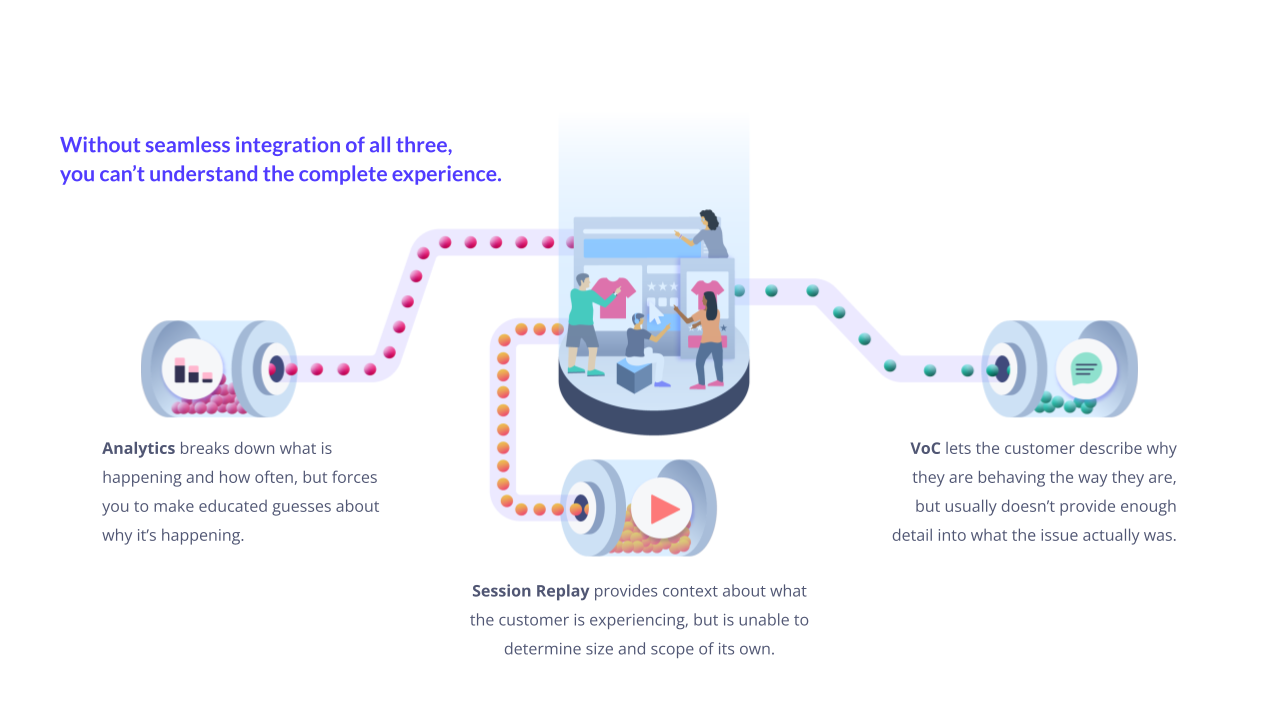 To succeed, you need a deep understanding of the customer.
3. Session
Replays
:
The easiest way to gauge what happened with a customer's journey is to experience the journey firsthand. Session replay provides 100% review at the scale of every customer journey. For example, did a menu disappear? Was there an error on the pages? Did a click not lead to a new page? Did a vital dialog box not show up?
When visualized, these kinds of problems resolve better. So our session replays are integrated with our Behavioral Analytics and Voice of Customer. Plus, Auryc automatically indexes and categorizes every digital interaction; finding any use case of interest now takes seconds instead of minutes and hours.
With Auryc's Session Replays, you can:
1. Visualize and track every click, every mouse movement, and search query.
2. Understand every frustration exactly how it unfolded.
3. Solve user concerns in real-time.
With Auryc's seamless Shopify integration, these tools can be easily incorporated into your existing plan. Now building your e-commerce empire is absolutely effortless. With expert data analytics and best-in-class session reviews and feedback response systems, Auryc is the answer to all your customer experience needs.