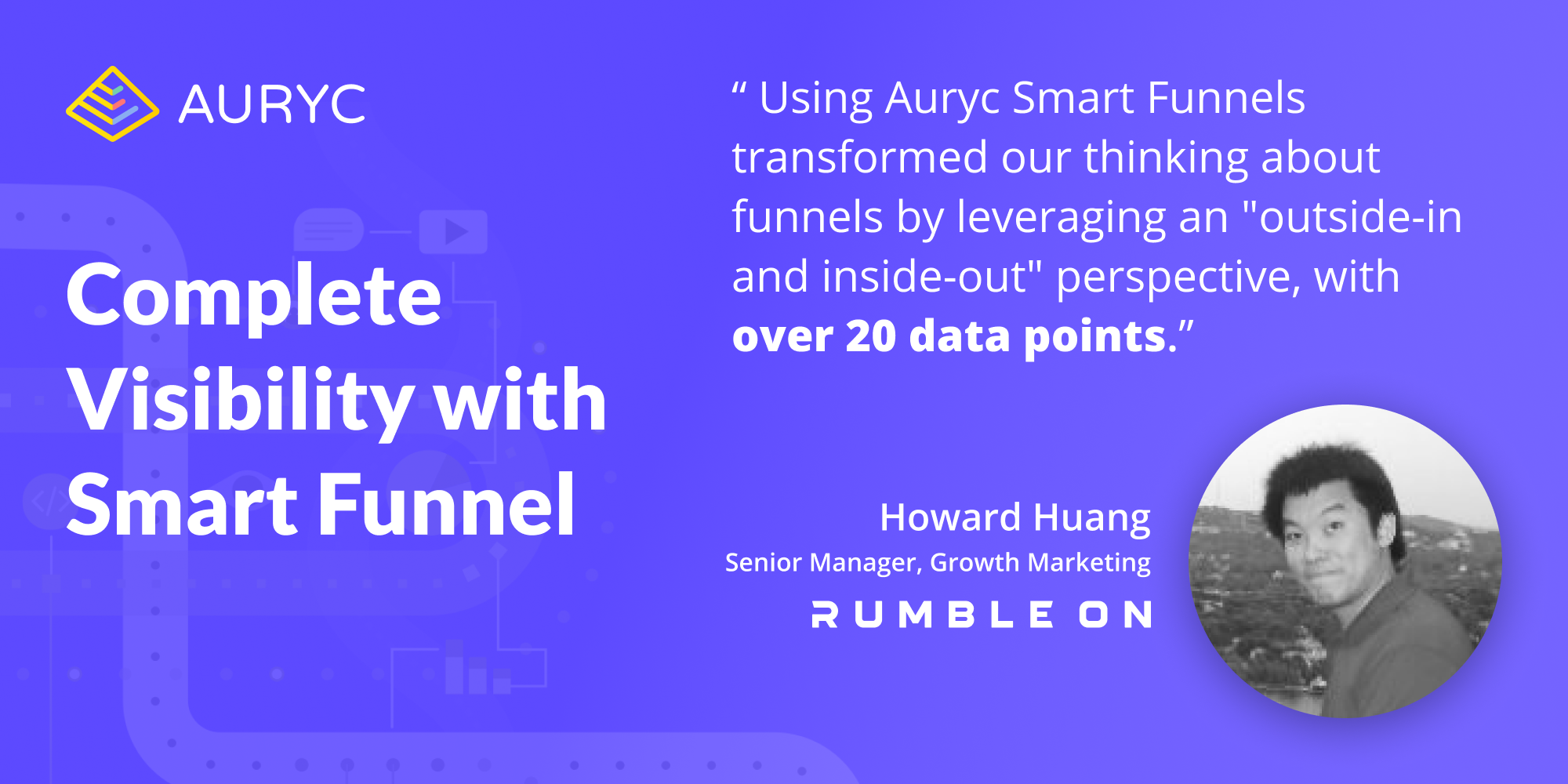 Transforming Digital Customer Journeys at RumbleOn with Auryc
About RumbleOn
Launched in 2017, RumbleOn is the nation's first technology-based omnichannel Powersports marketplace. Headquartered in the Dallas Metroplex, RumbleOn is revolutionizing the customer experience for outdoor enthusiasts across the country by making power sport vehicles accessible to more people in more places than ever before. With years of glowing success, RumbleOn's disruptive customer-centric platform allows customers and dealers to sell vehicles online in a quick, transparent, engaging, and secure manner from anywhere in the world.
In this case study, we interviewed Howard Huang, a Digital Marketing Manager at RumbleOn, to learn how Auryc helped to transform digital customer journeys.
The Challenge
Traditional funnels could not capture complex business processes.
The RumbleOn team shares a burning passion for motorsports. Within the first two years of the company's launch, the team sold more power vehicles than anyone else in the nation. Like many businesses, they used a traditional marketing funnel based on volume and attrition to understand their buyers. However, a traditional funnel can only answer basic questions like "What is happening at each stage of the funnel?" and "How many prospects convert into customers and how many drop off?".
"At RumbleOn, we have complex buy/sell processes and spend a ton on customer marketing. Traditional funnels just answer "WHAT" is happening, like how many converted and dropped off at various stages of the customer journey. Unfortunately, traditional funnels fail to produce this qualitative data to answer the "why" aspect of customer attrition."
The Solution
Saving the day with Auryc's Smart Funnels
RumbleOn was looking for a better way of analyzing their digital customer journeys, leveraging Auryc's Smart Funnel capabilities. Auryc made it easy to capture and categorize every customer interaction, enabling RumbleOn's marketing and web teams to create funnels on-the-fly. In addition, Auryc's easy-to-use web portal allowed the team to create the funnel steps and generate funnel analysis reports on-demand, drilling down to specific pages or user events.
"Quantitative data ("how" many) is not sufficient alone. We needed qualitative data (the "why") to augment our strategy to optimize the digital Customer Experience (CX). Auryc's Smart Funnels are an innovative new approach compared to the standard funnel that everyone knows. Using Auryc Smart Funnels has transformed our thinking about funnels leveraging an "outside-in and inside-out" perspective, with quantifications from over 20 data points."
Thanks to Auryc's automatic path and smart funnel analysis capabilities, RumbleOn's web teams could gain a deeper understanding of their visitors' behavior. By monitoring customer drop-off points, frequent frustration signals, page performance scores, and client feedback, they optimized for customer experience and increased customer retention.


"Increasing a website's conversion rate and boosting the bottom line needs a system with more than a few stages of thinking. At RumbleOn, Auryc's Smart Funnel Analysis captured and analyzed qualitative and quantitative insights regarding page load performance, revenue, user experience, and more."
The Auryc platform allowed RumbleOn to move beyond customer experience alerts and deep analytics. Using the same platform, marketing teams could also collect the voice of the customer signals, enabling them to understand what impacts performance, why it's happening, and how to focus while prioritizing.
Looking Ahead With Auryc
With Auryc's technology, RumbleOn has a strong marketing funnel that can improve customer experience and boost business, focusing on more than just a single metric. Through Auryc's powerful capabilities and deep analytics, RumbleOn is confident it will be able to identify and resolve customer journey issues that directly impact conversions and customer satisfaction, driving increased marketing effectiveness and profitability.
A final thought from Howard at RumbleOn :


"Today's marketing funnels are changing. If you focus on a single metric, such as conversion rate, you may believe you're on track when you're not. With Auryc, we now have access to more quantitative data and qualitative insights than ever before. Auryc gives us more ways to synthesize this insight into meaningful answers for our organization."