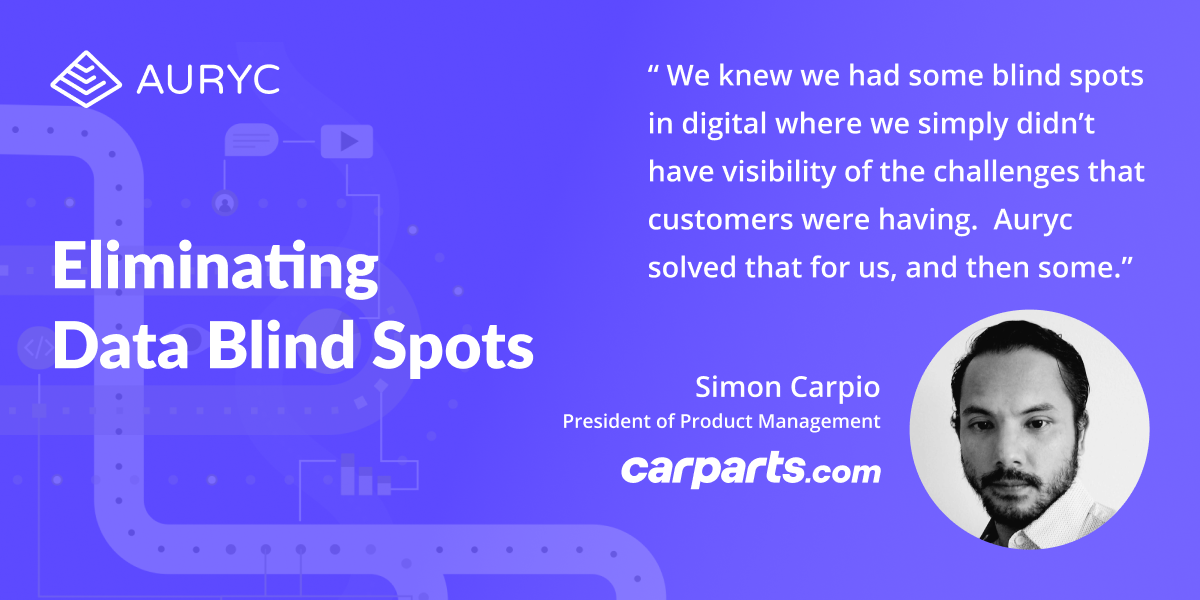 CarParts.com is a technology-driven eCommerce company transforming the way drivers shop for the parts they need. After being in business for over 25 years, they've focused and streamlined their efforts to build a seamless factory-to-consumer online shopping experience.
The Challenge
CarParts.com was looking for a solution that could speed up the identification, acceptance and resolution of site errors and usability issues in order to drive greater sales, conversion rates, and better customer experiences.
In addition, they had a goal of creating a more holistic customer experience program and wanted to find a solution that Product, Design, Q&A, and Customer Service could leverage.
The Solution
CarParts.com chose Auryc because it combines session replay, voice of customer (survey), and near real time interaction analytic technologies into a natively integrated customer experience management platform. CarParts.com can now deliver better customer experiences online, and offline where customer service representatives can see online customer behavior up to just before contact.
Simon Carpio, Vice President of Product Management at CarParts.com, explains, "We knew we had some blind spots in digital where we simply didn't have visibility of the challenges that customers were having. Auryc solved that for us, and then some."
" We've eliminated our data analytic blind spots to such a significant degree that the cost savings we achieved from addressing issues uncovered by Auryc allowed the system to rapidly pay for itself. "

- Simon Carpio, President of Product Management, CarParts.com
The Results
CarParts.com became the fastest growing auto parts site for 2020! According to SimilarWeb, the website grew 194% YoY and surpassed 4 competitors for overall site visitors.


Integrating with LiveChat
Auryc integrates seamlessly with CarParts.com's livechat system, and because Auryc captures analytics and session recordings in near real time, customer service agents can now immediately see what customers were experiencing, adding valuable context that helped improve first contact resolution and dramatically increase NPS scores. CarParts.com increased its NPS score by 20 points and has quantified that integrating with Auryc led to a 15% increase in sales (or conversions) in the contact center.


Gaining Acceptance of CX and Technical Issues