How Customer Experience Is Changing The World
With modern technology, consumers expect more. It is not enough to offer a high-quality product at an attractive price - the customer should also be able to conveniently buy your product, receive prompt answers to their questions at the right time, and receive personalized recommendations. In today's world, customer experience (CX) is all about strengthening the bonds between you and your customers. It goes beyond just transactions and aims to build a deeper emotional connection with your customers.
Enhancing the customer experience is at the core of digital transformation.
The Harvard Business Review defines
customer experience (CX)
as the sum-totality of how customers engage with a brand throughout the entire arc of being a customer.
In this blog, we will explore the importance of CX, the challenges associated with traditional CX metrics, and finally, how to leverage CX data to ensure better customer experiences.
Why is CX important?
No matter how good your product is, if you don't invest in customer experience, you can't succeed. Just a single negative experience can cause you to lose valuable customers. So, what can you do about it? Let us look at how any business can benefit by creating great experiences at every customer journey touchpoint:
Increases Brand Loyalty
Gaining a new customer is typically more expensive than retaining an existing one. Therefore, to grow your business sustainably, it is important to turn current customers into loyal ones. How do you do this? You need to engage with your customers, gather feedback, and address their pain points along the customer journey. A good customer experience results in higher NPS scores and brand loyalty, which leads to repeat purchases, increasing your revenue in the end.
Generates Brand Advocacy


In a study conducted by

BCG

, people were four to five times more likely to consult friends or family before making a purchase than newspapers and social media.

Therefore, it is crucial to turn your existing customers into brand advocates in order to increase top-line growth. Ensure that your customers are satisfied with your product, provide value for money and top-notch customer service, and ultimately build an emotional connection with them. Customer and brand advocacy begins from the moment a customer visits your website.
Promotes Desired Business Outcomes


Every customer interaction involves the interplay of multiple business functions like marketing, product, operations, and more. You can leverage data from these departments to plan and design customer journeys around your product. Mapping out a customer journey is a win-win for both the consumer and the business. By monitoring customer journeys across different touchpoints and taking corrective action when needed, you can help customers reach their goals. Every interaction delivers more value and finally leads the customer to the desired business outcome. From a business standpoint, mapping out your customer journey allows you to quantify the ROI from your CX investments.
Challenges with CX metrics
Without a doubt, companies strive to deliver the best services to their customers. Nevertheless, there is a gap between what the customer wants and what the company produces. How can you bridge that gap? By using data. CX data can be used by companies to determine what their customers value and which touchpoints need to be optimized. However, measuring CX metrics can be hard due to multiple challenges :
CX Data In Silos


Throughout your organization, teams like sales, marketing, and customer service use different tools to accomplish their tasks. It is difficult to get a 360-degree view of CX improvement efforts if the data from all these channels are not connected. For example, at first glance, a low

CES (Customer Experience Score)

may hint at performance issues with your customer support department. However, what if your service reps are dependent on another team to resolve customer queries, leading to longer wait times for the customer? The absence of a holistic picture of your CX metrics will leave your leadership team confused, decreasing productivity and increasing costs.
Lack of Qualitative CX Feedback


To craft richer customer experiences, it is crucial to make use of both quantitative and qualitative data. Quantitative data enables you to identify problems in key business areas. Qualitative data gives you context into how your customers are using your product — you learn about their experiences and understand their challenges. So, you should definitely design a great

CSAT survey (Customer Satisfaction)

and calculate your score based on the results you receive. However, it is equally important to follow up on this CX metric with feedback from the customer and improve your product. Businesses that rely solely on quantitative data fail to keep up with the changing expectations of their customers and fail in their CX programs.
Complex and Confusing User Journeys


Today, brands deliver their products and services through multiple channels. As a result, the purchase funnel has become a complex web, where it is difficult to identify, track, and understand customer behavior. For instance, any large e-commerce business with their own technology and custom processes probably have one of the most complex user journeys. They must manage delivery logistics, handle returns, navigate complicated checkout processes, and more. In these situations, your metrics for CX must be linked to different stages of the customer journey. Not only does this simplify complex customer journeys, but it also makes it possible to track success metrics.
" It's not easy to build a system that captures all of the metrics throughout the customer journey. Such a system of intelligence must go beyond capturing the "what" to truly understand the "why"."
Going beyond with Auryc
Delivering the best customer experiences means keeping your customer at the center of all product decisions. Auryc is a customer experience intelligence platform that optimizes every customer experience across the web and mobile to drive more revenue.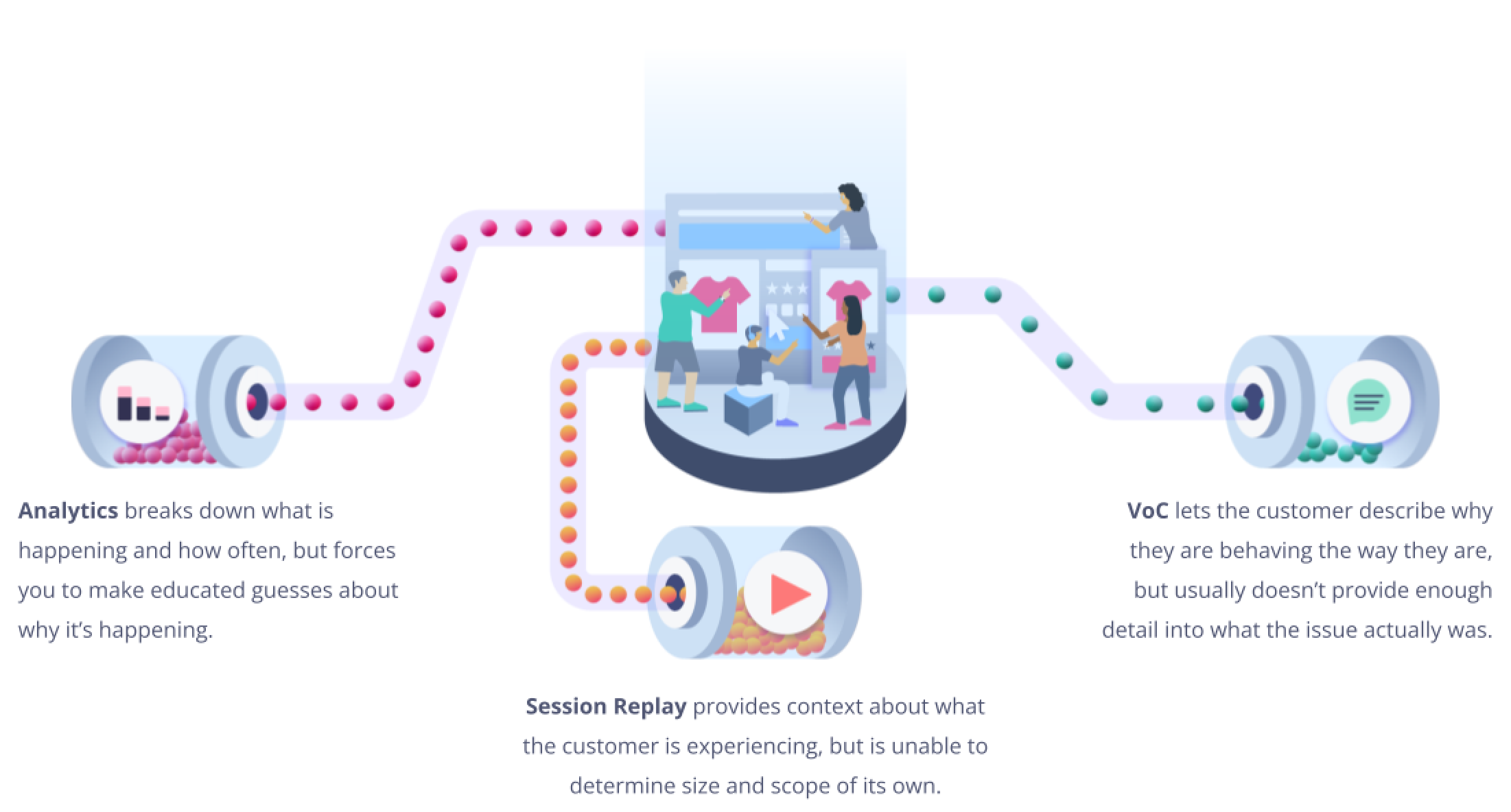 A winning combination for better CX: Analytics, session replays, and VoC
Auryc captures 100% of engagement events and content for customers and visitors - a high fidelity record of users' digital journeys including all clicks, views, swipes, and user input, system performance data plus CSAT, NPS surveys, and feedback. Auryc's journey intelligence platform indexes and reports this data in an organized way for a shared, user-centric understanding of your customers' lifetime journeys - qualitatively and quantitatively. By combining journey data with conversion events, our machine learning algorithms let you quickly understand why users convert - and why they don't.
So how exactly can Auryc help your business?
CX Mission Control Dashboard To Tackle Siloed Data


Whether you want to check user metrics like new vs. returning customers, or performance metrics like revenue and conversion trends, you can view it all from the CX mission control dashboard on Auryc. It is the single source of truth to view, analyze, address, and optimize any issues that come up while building a great customer experience. In addition, your workforce spread across multiple departments can view various dashboards "at-a-glance" and get instant clarity on the status of your CX initiatives. The CX mission control dashboard lets you break down CX data silos and uncover hidden revenue opportunities.
Say no to data silos with Auryc's CX mission control dashboard
VoC and Session Replays For Qualitative Feedback


Did a customer drop off from your website after an 'error 404' message? Or do you want to learn why your customers' rage clicks? To get context into your customers' behavior and understand their frustrations, your analytics need to be beefed up with tools that give you qualitative insights. Auryc provides you with the seamless integration of analytics, VoC, and session replays to understand the complete experience of your customer.
Capturing Customer Feedback Just-in-time With The Voice of the Customer (VoC)


VoC allows you to collect customer feedback at every digital touchpoint, enabling you to identify what your customers want the most. You can trigger in-the-moment responses like surveys, polls, and other feedback to help measure Net Promoter Score, Customer Effort Score, Customer Satisfaction Score, and other key CX metrics.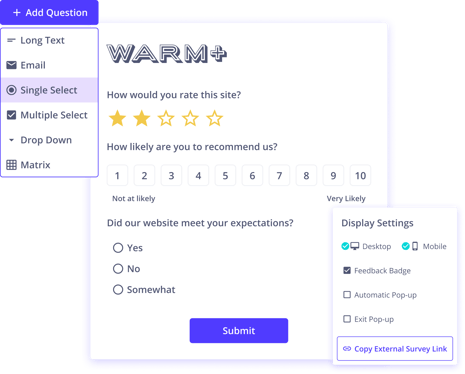 Listen to what your customers need with VoC
Reveal The Real Business Impact of a User's Session With Session Replay


Session replays allow you to record detailed user sessions to visualize where your customers struggle. As a result, you can understand all your customer frustrations from rage clicks to loss of interest, and solve them faster.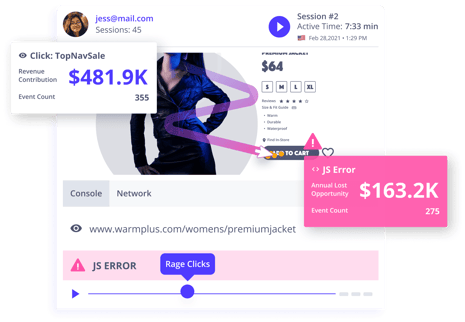 Capture everything that bothers your customers
Break Down Complex User Journeys and Pathways Using Smart Funnels


Auryc lets you create on-demand digital funnels at different stages of your customer journeys. You can also understand how your visitors navigate your website using pathing analysis. Digital funnels and pathing analysis together help you identify the primary drivers for conversions and the critical blockers for dropped users. With qualitative and quantitative data points for every stage of your funnel, you can improve funnel completion rate and boost revenue.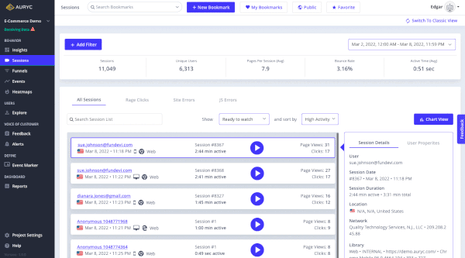 Auryc is transforming the way companies create better customer experiences. Whether you're an analyst or a product marketer, you can make use of Auryc's can help you build better and more memorable customer experiences. And that too, with no coding knowledge because Auryc is a no-code analytics platform!
Get started with Auryc Today

Get a personalized demo of Auryc!

Get a personalized demo and see how Auryc will help you remove the frustration from your online customer experience.

Need a CX mission control center?

If you are interested in learning more about Auryc, our CX Mission Control Dashboard, or how you'll uncover the true bottom-line impact of your customer's frustrations with your site or app: